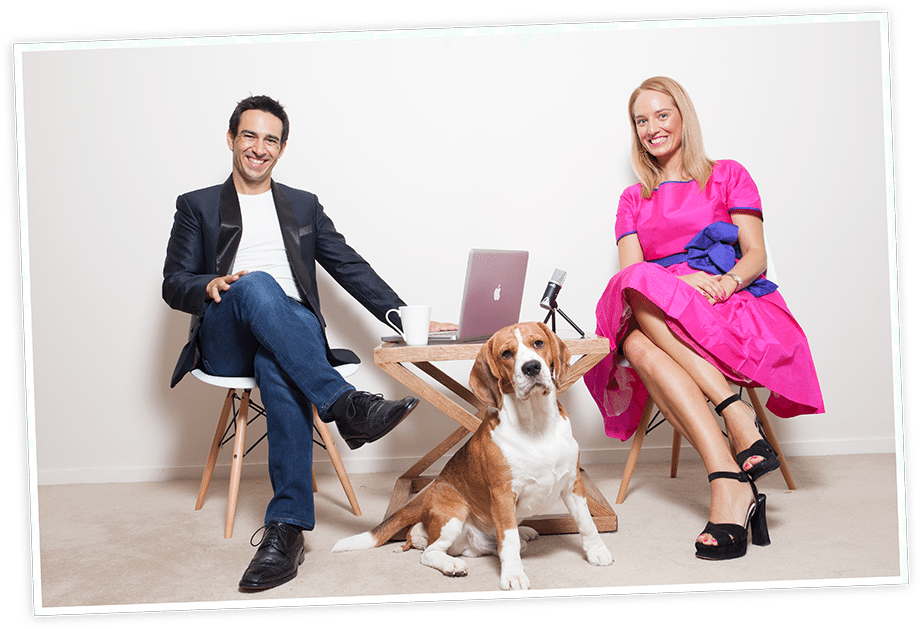 Masa Cemazar & Miguel Montero
Pyjama Bosses.
Masa is from Slovenia, graduated from Oxford University and then got her PhD in Genetics. At the age of 27, she was faced with the disappointment of a low-paying scientific career: "I moved to Australia in 2004 with just two suitcases and $2000 in my pocket."
Miguel is from Spain and he is a trained commercial pilot, but he found that aviation industry was always one of the first ones to get hit in any economic downturn. "After living for several years in both England and Dubai, I left everything to start a new life in Australia in 2005."
Masa & Miguel found network marketing at the end of 2005, not even a year after moving to Australia with nothing but a couple of thousand dollars. They have built large organizations with 10,000s people worldwide. In addition, they launched their generic training platform called Pyjama Bosses in late 2014, which has led them to become authors, speakers and generic trainers.
Masa & Miguel have worked with leaders from more than 30 different network marketing companies and their passion and focus is helping leaders create customized team duplications systems to help them scale their network marketing businesses to 6- and 7 Figures.
Masa & Miguel live in Brisbane, Australia and travel frequently to support our worldwide businesses.
Here's What Experts are Saying:

Terry LaCore
CEO bHIP Global
"It has been my pleasure to work and build a team with Masa and Miguel. In the years we have worked together I have found them both to be dedicated to the success of their teams, genuinely interested in making sure the lives they touch are changed in even the smallest of ways. Masa and Miguel are always willing to travel to new places to share the insights they have learned through their efforts with others. I find their dedication and positive attitude a great asset to the industry as well as to our team at bHIP".

Jerry Clark
ClubRhino.com
"I have known Masa and Miguel ever since their beginnings in the industry and have watched them go from complete newbies who were trying to figure this business out, to Multi-Million Dollar Producing Networkers who happen to have a passion for transforming lives.  They provide down-to earth advice on how to take action, stay focused, and produce results!"

Margie Aliprandi
Owner at margiealiprandi.com & Elite Social Marketer, Modere International
"If you want sound and relevant network marketing training, you have come to the right place. Masa and Miguel have achieved a level of success in network marketing that is rare indeed. Not only do they understand all of the nuts an bolts, and the necessary mindset for network marketing success, they also have the heart and technical skill to mentor others in the achievement of their dreams."

Tom "Big Al" Schreiter
BigAlBooks.com
Masa is a joy to learn from as she eliminates the hype and gets to the problems we want to solve. She talks from her real world experiences, how she handled the daily challenges, and makes it easy for us to take her wisdom with us.

Jonathan Budd
CEO, Owner at FuturisticMarketing.com
"I've had the great privilege of knowing Masa & Miguel for almost 5 years now, and I can tell you that the determination, heart, spirit, and intelligence of these two knows no bounds!! They are fierce, committed leaders who are making the networking industry a better profession, simply by their presence. Dig in your heels and be UNSTOPPABLE with what they'll teach you, and your business is bound to grow."

Todd Falcone
ToddFalcone.com
"It's always good to partner up and follow leadership, people who have a proven track record of doing what it is they are teaching. In fact, I personally wouldn't
follow anyone who was teaching something they hadn't actually done. Both Masa and Miguel have a proven track record of creating success in network marketing
and home business. Follow them. They know what they're doing!"